Congratulations is in order for Coach Jerod Haase as he has been hired to be the next coach for UAB Blazers. Coach Roy Williams should be proud that another one of his former players and coach is now a head coach in college basketball. Coach Haase has the qualities that will make him a successful head coach, and we wish him nothing but success. The question now remains who will the Tar Heels choose to replace Coach Haase on their staff. Most likely Coach Williams will promote from within, but for fun here is a list of candidates we think Coach Williams should target.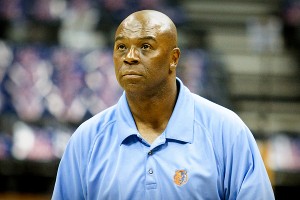 Phil Ford
It is long past time to bring Coach Ford back to the UNC bench where he belongs. The Tar Heel legend has battled personal demons, but his dedication and loyalty to the University is second to no one. Had he not had the issues with alcoholism UNC would have avoided the disastrous period with Matt Doherty running the program. I have a personal bias in this pick as Coach Ford may be the nicest most genuine Tar Heel great I have ever had a chance to work with. Had I not known his accomplishments on the curt I would have thought he was just another coach who made their way through Chapel Hill. Coach Ford has the pedigree that Coach Williams will be looking for and who better to tutor Marcus Paige, Kendall Marshall and Nate Britt than the best point guard to ever play in the A.C.C.?
Jacque Vaughn
Vaughn is a Kansas great point guard who like Tyler Zeller was a stellar student athlete. Vaughn knows Roy's system inside and out and along with his experience in the NBA he would do well on the recruiting trail. Vaughn has gained experience coaching with Spurs coach Greg Popovich and a defensive mindset would be a quality addition to this staff. I know more coaches have experience on the college level, but so much of competing at the highest level is about recruiting, and what point guard would not want to talk to Jacque Vaughn?
Bobby Frasor
Already on staff as the video coordinator Frasor knows Roy's system as a player and a Coach. Coming from a family coaching background Frasor knows the grind of what it takes to be successful at this level. Roy developed into the coach he is from a similar type position when he first joined Coach Smith's staff many years ago. There are many viable candidates in the coaching ranks, but hiring people you can trust is a huge part of this business. Fraser has played at a high level, and sacrificed for the betterment of his team when he took a backseat to Ty Lawson. Frasor may be a long shot, but nonetheless he is worth considering.
Coach Williams will pick a coach he fills will help the University of North Carolina win basketball games, but it is fun to speculate who he may choose. Will he choose someone off the radar or a person who has Kansas/UNC ties to his programs? That answer will come in time, but for now UNC fans will be more focused on which players will be back in Chapel Hill next season.
As always you can follow the MandMsportshow on twitter @MandMSportshow and you can read more articles from Haley at Keepingitheel.com.
Please consider subscribing to our blog at
Blog Sign Up