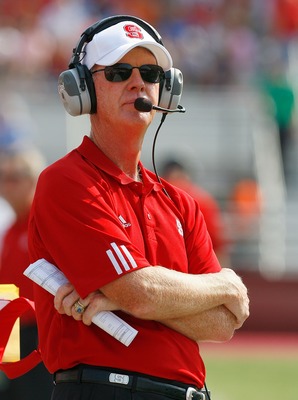 When Tom O'brien took over for NC State's flamboyant coach Chuck Amato he left Boston College after compiling three straight 9-3 records and a 75-45 overall mark. Conference play as has been similar to O'brien at NC State was 37-34 in both the Big east and the ACC. In fact O'Brien's conference record at NC State has declined to18-22 in five seasons. Although he has beaten rival UNC in all five seasons questions still remain if O'brien take NC state to that next level?
For Tom O'brien the first game of the season was an opportunity to show the growth of his program and swerve as a step toward removing the stigma that he can only take a program so far. The loss to Tennessee has the naysayers back in full force. It is hard to win at a high level in college football and most fans will be happy with 8-5, but then again this is NC State. The same school that ran off a coach who had taken them to multiple NCAA tournament appearances and was beginning to sign higher rated recruits each year. Has Tom O'brien hit the ceiling with how far he can take NC State? The loss in this year's opener to Tennessee did not help improve this perception.
Where does NC State go from here? NC State still features senior quarterback Mike Glennon and all American candidateDavid Amerson at cornerback. Glennon threw four interceptions against the Volunteers and he must take of the football if NC State has any hope of a successful season. The Wolfpack needs to compete for the Atlantic division championship this year because they will be rebuilding with Glennon's departure and breaking in a new quarterback. O'brien left Boston College because of their lack of a financial commitment to him and football, and in order to win championships he felt NC State was a place he could compete at a higher level.
NC State fans watched as their quarterback Russell Wilson had a great year along with being drafted this spring by the Seahawks. Unfortunately the team in red that Wilson led was Wisconsin all the way to the Rose Bowl. Wilson's departure allowed Glennon to start and mature into a quality quarterback. If he can parlay that experience into an all-ACC season then Wolfpack fans can put out of their mind what could have been last year with Wilson.
The opening game has put a damper on Wolfpack fan attitude toward O'brien and the college football season, but hope remains the Pack can challenge in the Atlantic division for a spot in the ACC championship game.