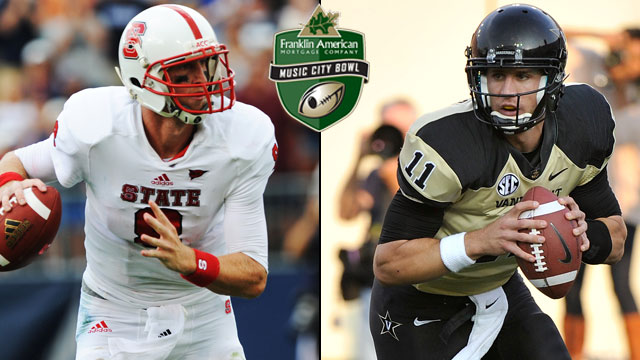 Tom O'brien
may have been fired after NC State's regular game versus Boston College and there may be excitement with new Coach
Dave Doeren
, but this years Wolfpack team has plenty to play for as they take on the Vanderbilt Commodores. Acting Head Coach Dana Bible is as classy as any college football coach you will meet and it is only fitting that his last game with NC State is a successful one.
Mike Glennon
and David Amerson both are known NFL prospects that can increase their draft position with a great showing with Glennon facing a tough SEC defense and Amerson matched up on top receiver an all SEC 1st team receiver
Jordan Matthews
. Matthews is a big time talent and has put up good numbers even against Georgia and South Carolina despite the Commodores losing both match ups. Matthews can improve his draft position with a great performance against David Amerson.
Tobias Palmer is a fun player to watch when NC State utilizes his speed especially on crossing routes and the senior could possibly play at the next level, but expect Palmer to play with a lot of emotion because this could be the last time he laces up the cleats.
Dana Bible has coached Matt Ryan, Russell Wilson and Mike Glennon and much of Ryan's and Wilson's early NFL success is attributed to the tutelage they received from their college coach. Bible is a competitive coach with high values and he demands his quarterbacks prepare the right way. You can be assured that NC State will be ready to play tomorrow when the kick off in Nashville.
Bible will quickly find a job as a coordinator, but hopefully after seeing the Wolfpack play tomorrow a school that values integrity and commitment will give him a chance to develop other future quarterbacks who may one day thrill NFL fans as Ryan and Wilson do.
As always you can tell let us hear your thoughts in 140 characters or less
@mandmsportshow
.