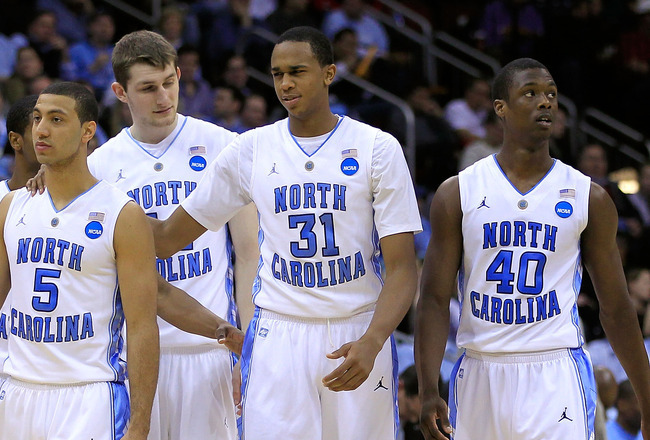 North Carolina is losing four starters to the NBA this year. Barring injury we decided we would put our two cents into who will have the best pro career. A lot will determine this based on which team drafts each player and what system they will play in. For example Tyler Zeller may thrive in a up tempo style offense where he use his ability to run the floor to get easy buckets in transition. On the other hand if he gets bogged down in a slow paced half court style he may take longer to experience success. Here we will take a look at each player and discuss how we believe they will fit in at the next level.
Tyler Zeller
The academic all-American and A.C.C. player of the year has the tools needed to be successful in the NBA. He has developed an ability to hit the mid range shot need to pull centers away from the basket, and his hook shot has improved this past season. Combine that with an ability to run the floor as well as anyone Zeller could average 10-14 points per game if given the right situation. He will need to develop a counter to his hook shot because when he turns over his right shoulder many times he is shooting across his body. He could get away with in college, but not over experienced NBA veterans.
John Henson
If John Henson focuses on blocking shots the way Dikembe Mutombo did in the nineties he will play in the league for a long time. With an improved offensive game Henson should see valuable minutes as a rookie. His weight has always been an issue, but he gets around it with being long and athletic around the basket. Henson has the ability to change games on the defensive end, but will he be able to do it against the power forwards in the NBA. We project Henson to be a role player in the NBA who may be more valuable at playoff time because the focus on defense changes.
Harrison Barnes
Barnes has every tool a successful NBA player needs, but his consitency shooting was a big question mark this year. He struggled down the stretch with good defenders on him and even more so when his point guard was out of the line up. From Barne's work ethic he will improve in the NBA, but at this time we cannot project him as a future all star. when you watch Barnes at his best you see superstar, but the up and down roller coaster makes us project another teammate to be the best of the group.
Kendall Marshall
Kendall has some deficiencies in his game that have to be addressed, but in the NBA a pass first point guard is the key to championships. Players will want to play with him and he can be a combination between Jason Kidd, John Stockton and Kevin Johnson. He has a little bit of their game in him that makes him special. If he can improve his shot to just keep NBA guards honest the sky is the limit. As far as him needing to a shut down defender he just has to hold his own as he did in many games this year. Marshall is our pick to have the longest most successful career , and the Cousy award winner has all the tools to do it.
If you disagree feel free to leave your comment below. We are interested in hearing your thoughts on Carolina's future pros.
Please follow us on twitter
@MandMsportshow
and you can also find Haley on
Keepingitheel.com